News
Happy New Year
3rd January 2022
As we mark the passing of another year, it's time for a long overdue update. Please don't be fooled by the lack of activity on the website, as the club has been bustling with activity so far this season.
This season has seen the arrival of a number of new members which has been great to see. The club nights are as busy as I've seen since joining the club a few years ago and members have been active both in the internal competitions in addition to the local league.
In the league Morecambe have taken a commanding league into Christmas with 3 wins and no losses, despite a thrilling 2 1/2 - 1 1/2 to Lancaster 'A'. Beneath them the Dragons and Lancaster 'A' both sit respectably with 1 win and a draw ahead of Bare.
The Dragons vs Lancaster 'A' match took place at the start of the season ending in stalemate with wins for Barry & Will for the A team offset against wins for Harry & Jonathon for the Dragons. We look forward to the return fixture shortly.
2021/22 Season Begins
30th September 2021
The 2021/22 season kicked off on the 21st of September at the Reform club and it was great for members to catch up with each other, in many cases having not met in person for 18 months.
The league will now begin in earnest with both the Club Championship and Quickplay competitions, as well as matches in the local league where we hope to field two teams this season. Updates for these will follow.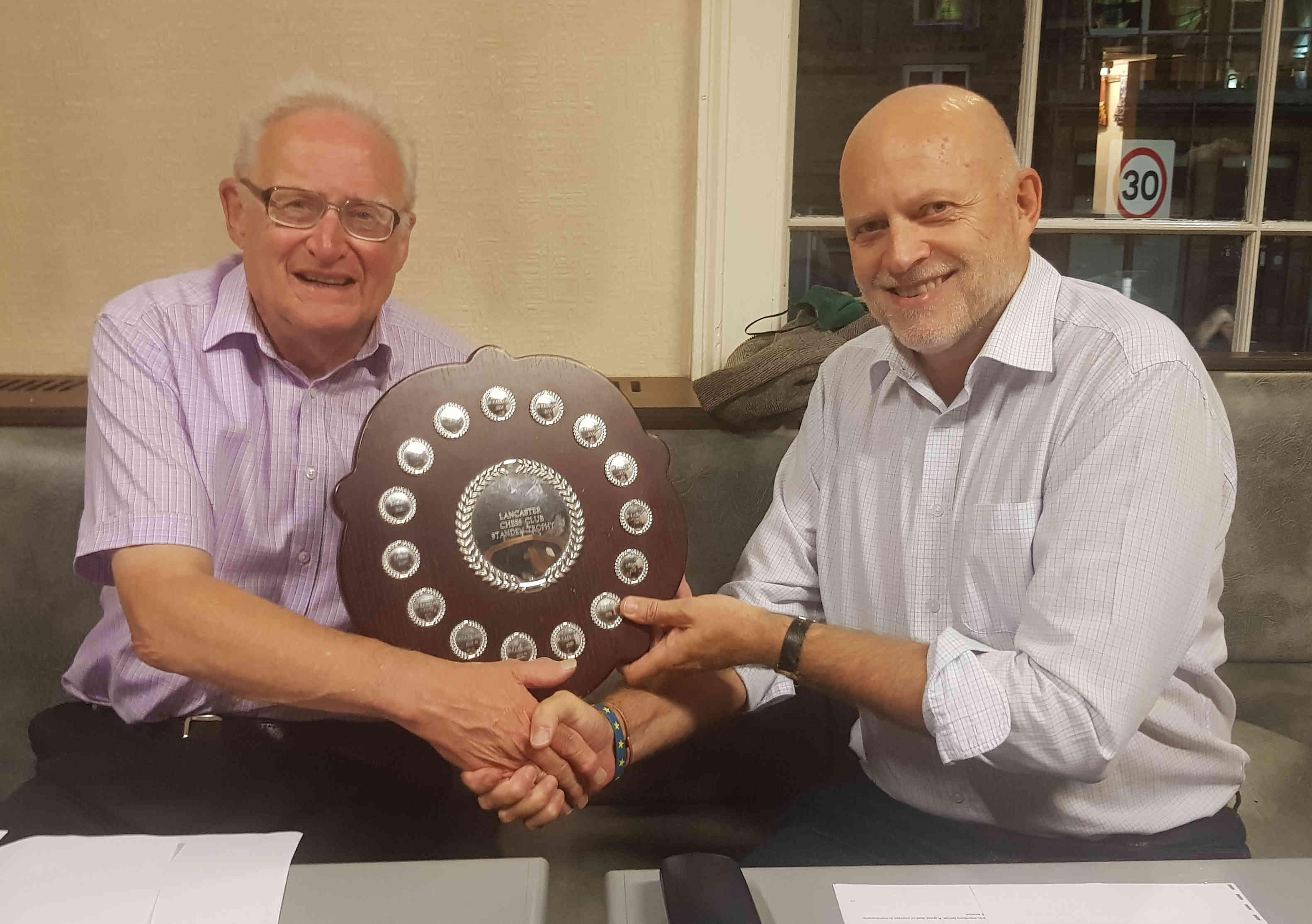 Barry was belatedly awarded with the Club Championship trophy by Lawrence
Lancaster Quick-Play Tournament - September 2021
12th September 2021
On the 5th of September, a number of local chess players gathered at the Lancaster Brewery for a quick play tournament organized by Richard Walsh.
With a turnout of 12 players from the local area (unfortunately, there were some last minute withdrawals), the tournament was played with a Swiss system over 5 rounds. The winners were jointly Barry Hymer & David Phillips both with 4 1/2, while a lower graded prize was awarded to Riddhiman Ghosh and Iain Walmsley both scoring 3.
For many it proved to be a long awaited return to over the board chess which had been dearly missed. Overall, it really was a fantastic day with everyone enjoying the chess as well as the company.
Thanks go to the Lancaster Brewery for hosting us, it proved to be an inspired venue with a nice outdoor space (and tasty beer!). Thanks also have to go to Richard for taking the initiative and providing us all with a day to remember. Finally, thanks go to Lawrence for running the tournament.
Below are a number of photos taken on the day.
The weather was fantastic, and the brewery proved an excellent venue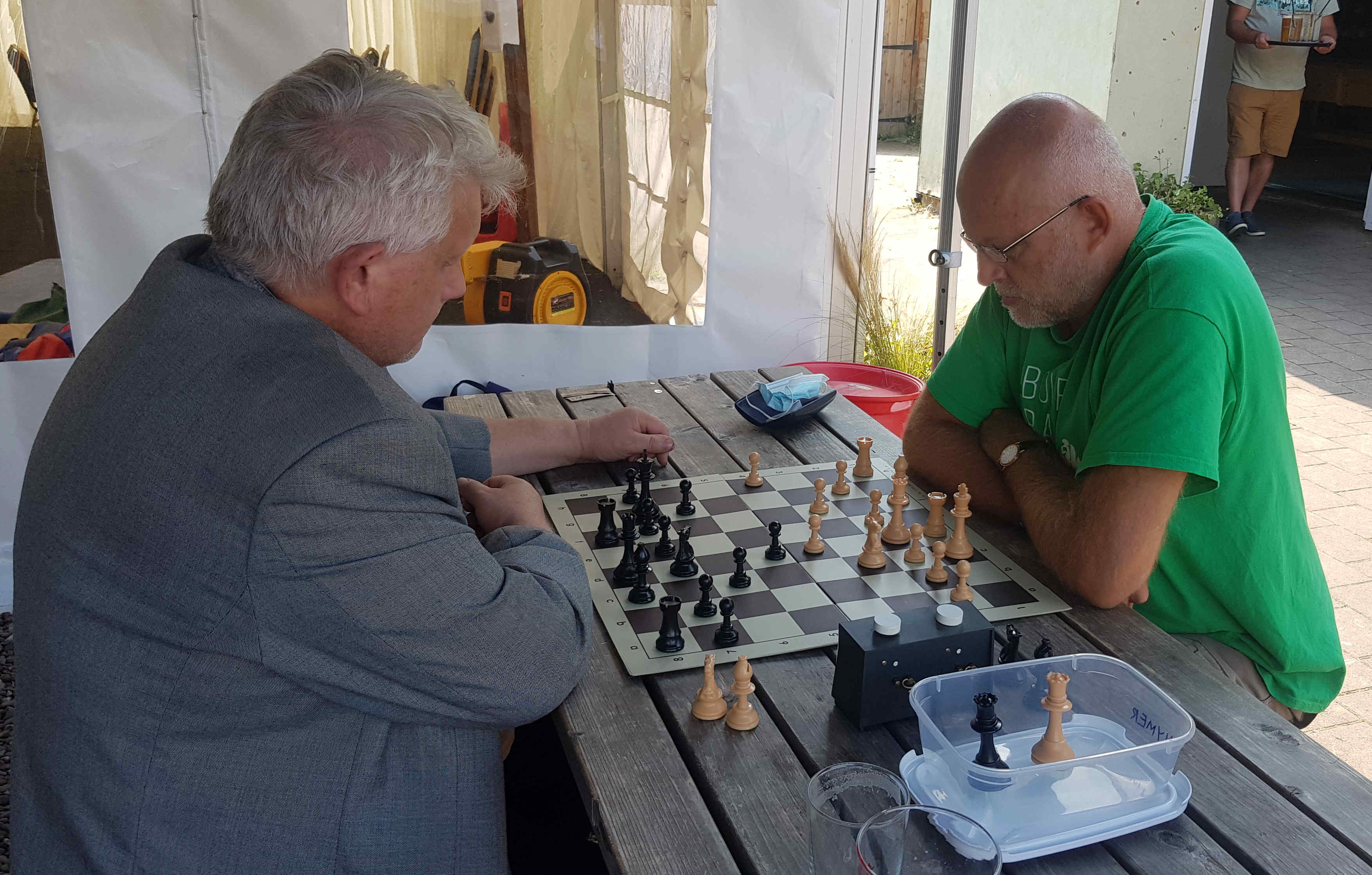 Barry came out on-top against Phil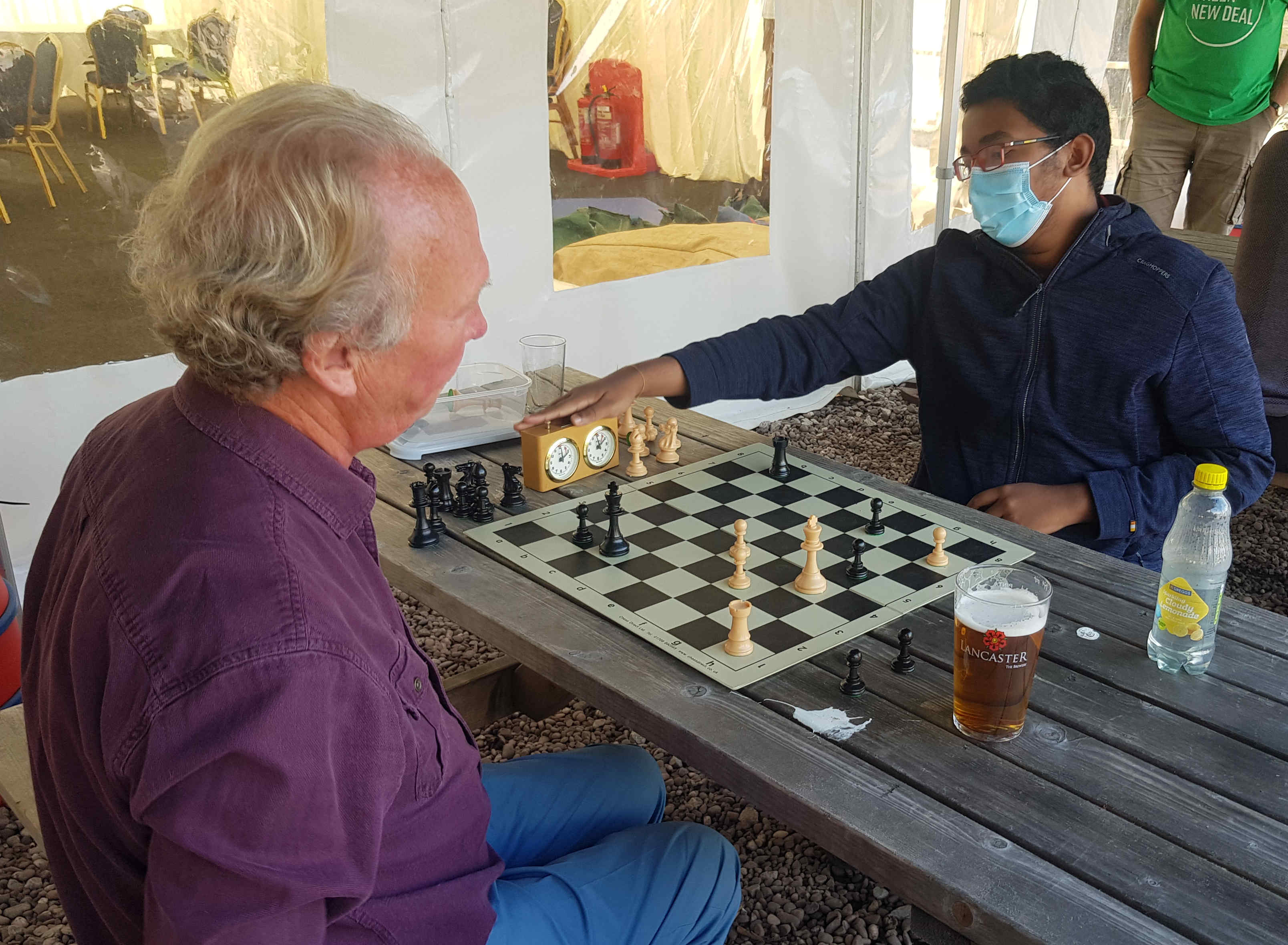 An interesting ending position between Richard and Riddhiman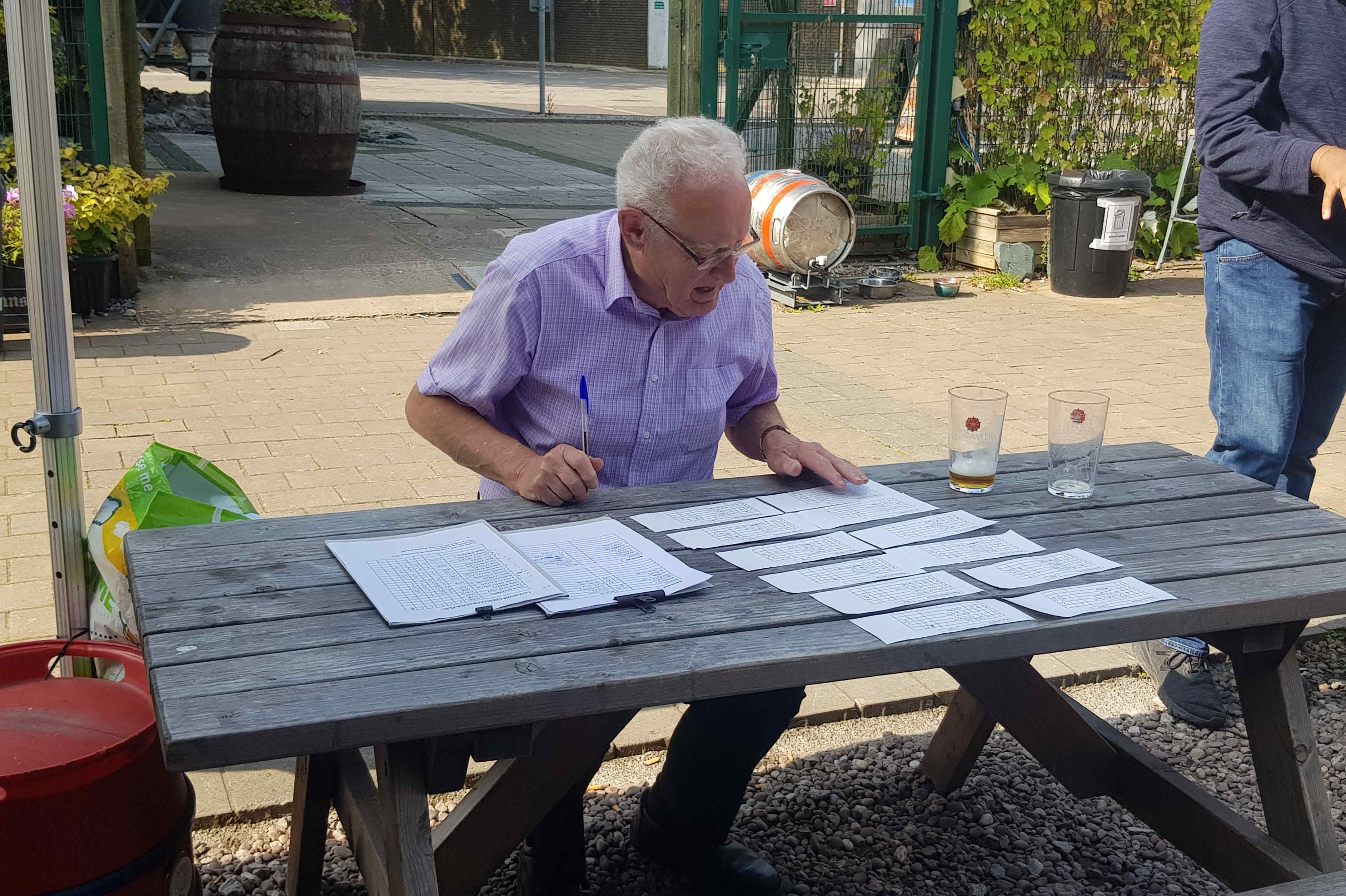 Lawrence ran the tournament, which went smoothly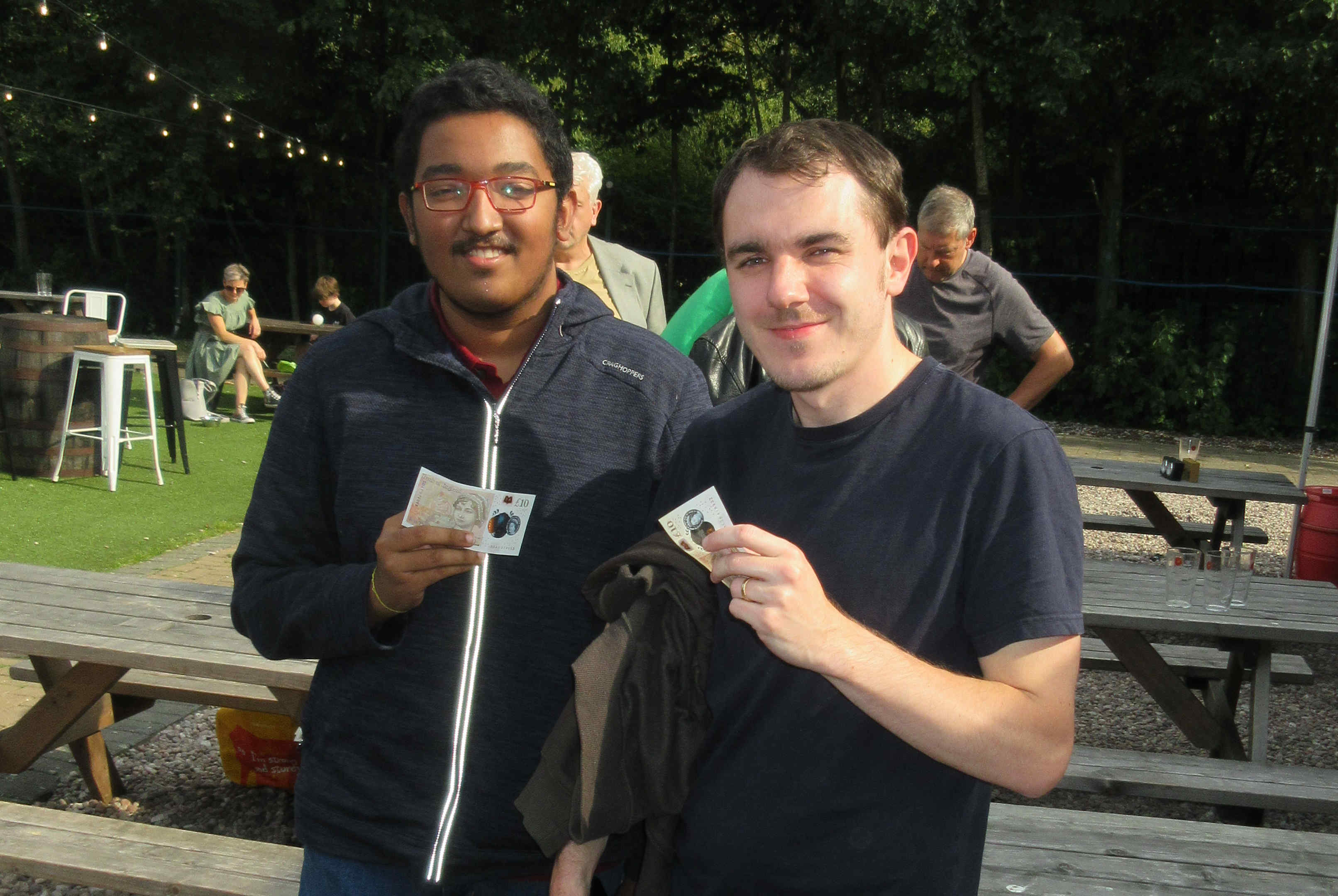 Iain and Riddhiman with their grading prize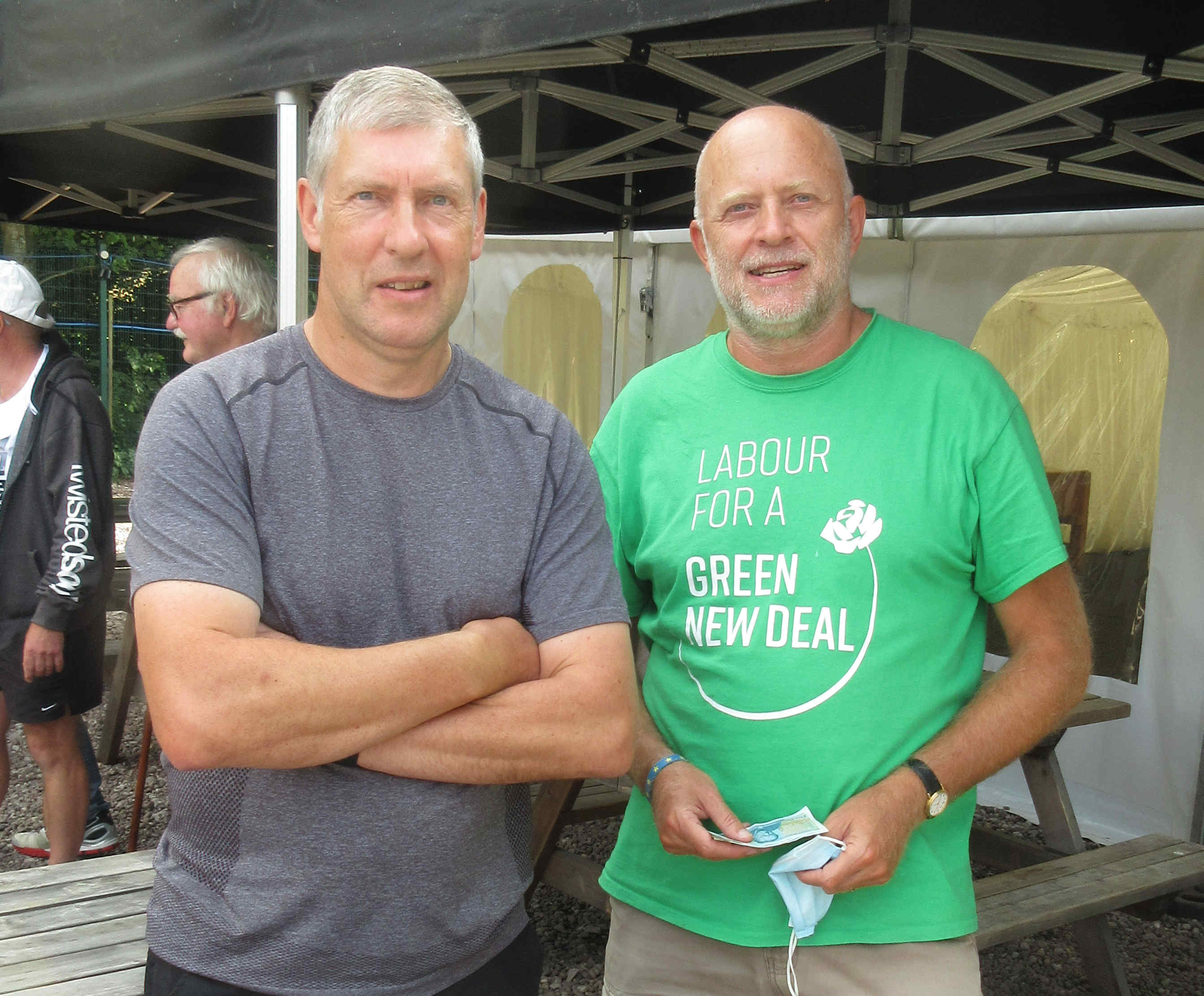 The overall winners who battled to a draw in the final round - well done Barry & David

Overall a brilliant day which hopefully may turn out to be the first of many
Dick Collins - Club Champion
28th March 2021
In a closely fought club championship last season Dick Collins came out on top. Lawrence has shared this excellent photo showing the presentation of the trophy.
He will continue to be missed.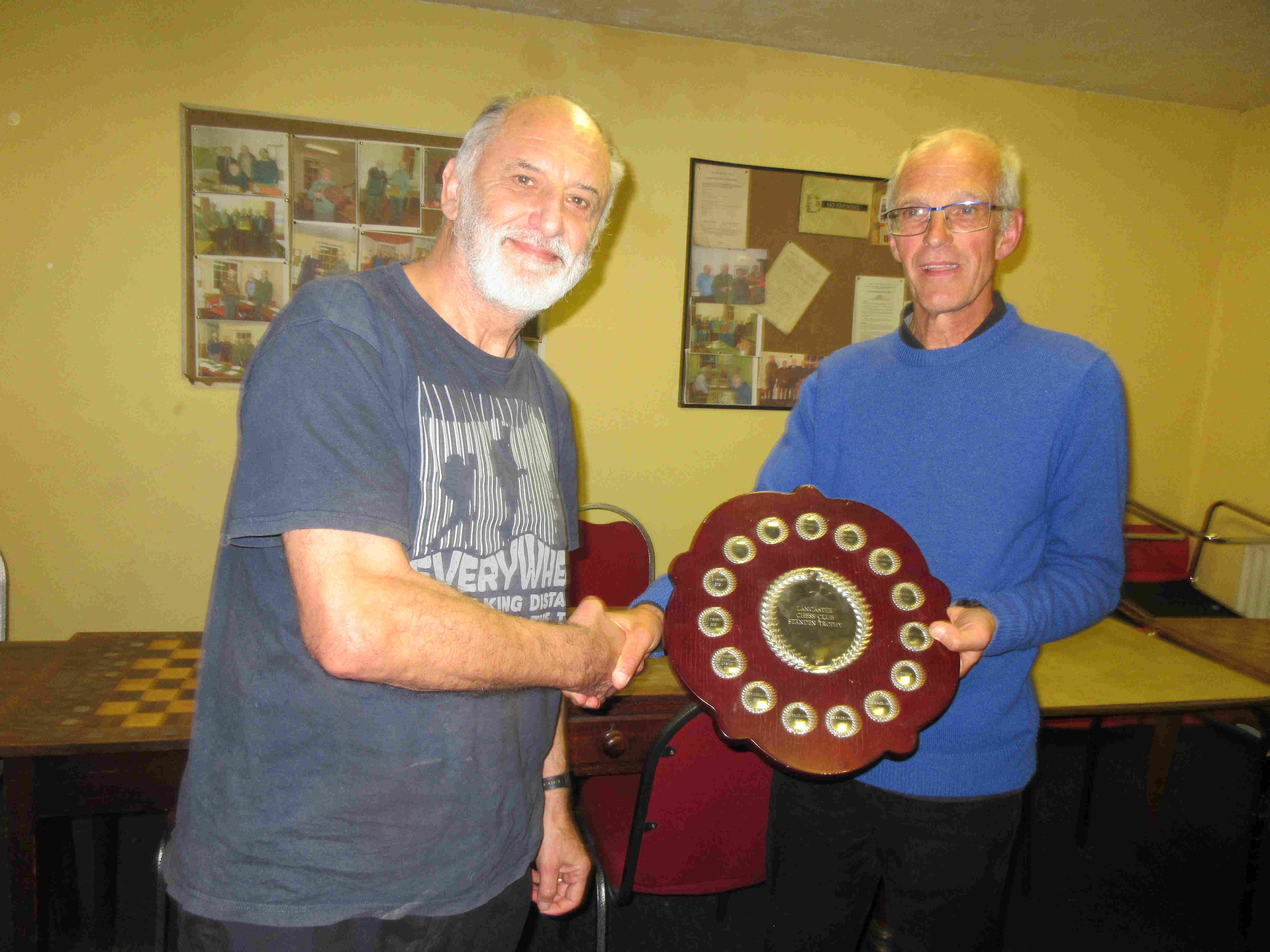 Dick was presented the trophy by Brian
Update & Perfect
21st March 2021
While no doubt many of our members have continued their chess online, the club hasn't met now for a full year which is a real shame. Looking forward though, we're optimistic for the start of next season and I think I speak for everyone when I say we cannot wait to get back to the board.
In other news, this excellent music video featuring chess was recently shared with us, enjoy!
Dick Collins vs Danny McMenamin
11th May 2020
The below text and game was supplied by Danny McMenamin. Dick forwarded me his annotations from the same exact game shortly before he passed away which have also been included. Click bottom right to expand annotations on Lichess.
The game was played between Dick Collins (White) Danny McMenamin (Black) in the semi-finals of the Individual level competition 21/1/2020. The game wasn't the best but shows good resilience and many tricks and bluffs, and blunders. Fun game with chances for both sides. Game ends in resignation by black due to over looking Dicks defensive trick.
Interesting game and the last I played against Dick, gone but won't be forgotten.
Richard A. "Dick" Collins, 1944-2020
14th April 2020
It is with great sadness that we report the unexpected death of Dick Collins on Tuesday 7th April 2020, reportedly of a heart attack. Dick had an association with our club going back many decades, and though he had played for Morecambe in team competitions in recent years, he also retained his membership of LCC and was a familiar sight to all of our members. Dick was a mainstay of chess locally and more widely in the NW through his play for Lancashire in county chess, and Manchester Manticores in the 4NCL league. I am reliably informed that in the '70s and '80s Dick was one of the strongest players in the NW, playing off a peak grading in excess of 200, and though this had dropped a good deal in recent years, he remained a formidable and competitive opponent to all but the very strongest. No doubt there will be fuller and more detailed tributes to Dick appearing in many places over the weeks to come, but we wish to pay our own tribute here to a fine player, a valued and popular member of LCC, and a real gentleman.
The game below has no great distinction, other than it was probably Dick's last competitive game, and it reveals his obstinacy when defending a cramped position. It was played in the final of this year's league Level competition - a tournament which Dick had won on countless occasions. At the start of the game Dick gestured cheerily to Phil Seery, whom he'd played in the final of the same competition back in the '70s. None of us knew this was to be Dick's final contribution. It concluded, perhaps fittingly, with a draw - Dick's preferred result in recent years. We had arranged to play the rematch the following week, but by then social distancing measures had taken effect, and that rematch never took place. RIP Dick.
March Update & Season Finish
18th March 2020
Regrettably the decision was taken yesterday by Barry to suspend the remainder of the season due to government recommendation around social distancing. While this comes as a disappointment as we will miss out on a number of meets as well as the standard end of season lightning tournament, it's out of our hands. We look forward to the start of next season eagerly!
One small comfort is that the timing of this only occurred after the Dragons had the chance to finish what was a very successful season. A cracking 2 1/2-1 1/2 victory over Kendal followed by University 'A' withdrawing from the final fixture has left us placed second only on individual points to Morecambe 'A'.
The full standings can be found on the league page - https://ecflms.org.uk/lms/node/31113/tables . Below you can find a closely fought draw in the match vs Kendal.
Blackpool Congress
18th March 2020
Four members took part in the recent Blackpool Congress - probably the last major chess event nationally for some time. Jack McQueen took part in his first tournament and performed very creditably in the Standard Section, as did Jonathan Verden. After a slow start (resigning in an arguably won position in round 1), Danny McMenamin stormed through on the Sunday to finish on 50% in a very strong Major section - a fine result.
Barry Hymer's best game in the Open was a round 1 loss to eventual tournament winner, Martin Mitchell. He missed several winning chances in this game as can be seen below (click on match in the bottom right for full annotations), and his play then got progressively weaker as the tournament progressed.
February Update
10th February 2020
The club met for its annual dinner at the Golden Dragon where a good night was enjoyed by all. Despite illness striking a few who unfortunately couldn't make it, there was a good turnout and the empty plates are a testament to the food.
The Dragons have continued their good league form with an excellent win against University 'B' thanks to wins by Danny & John and a heroic draw by Barry which I'm reliably told was quite something! With two games remaining against Kendal and University 'A', all is still to play for. Both will be incredibly tough tests however.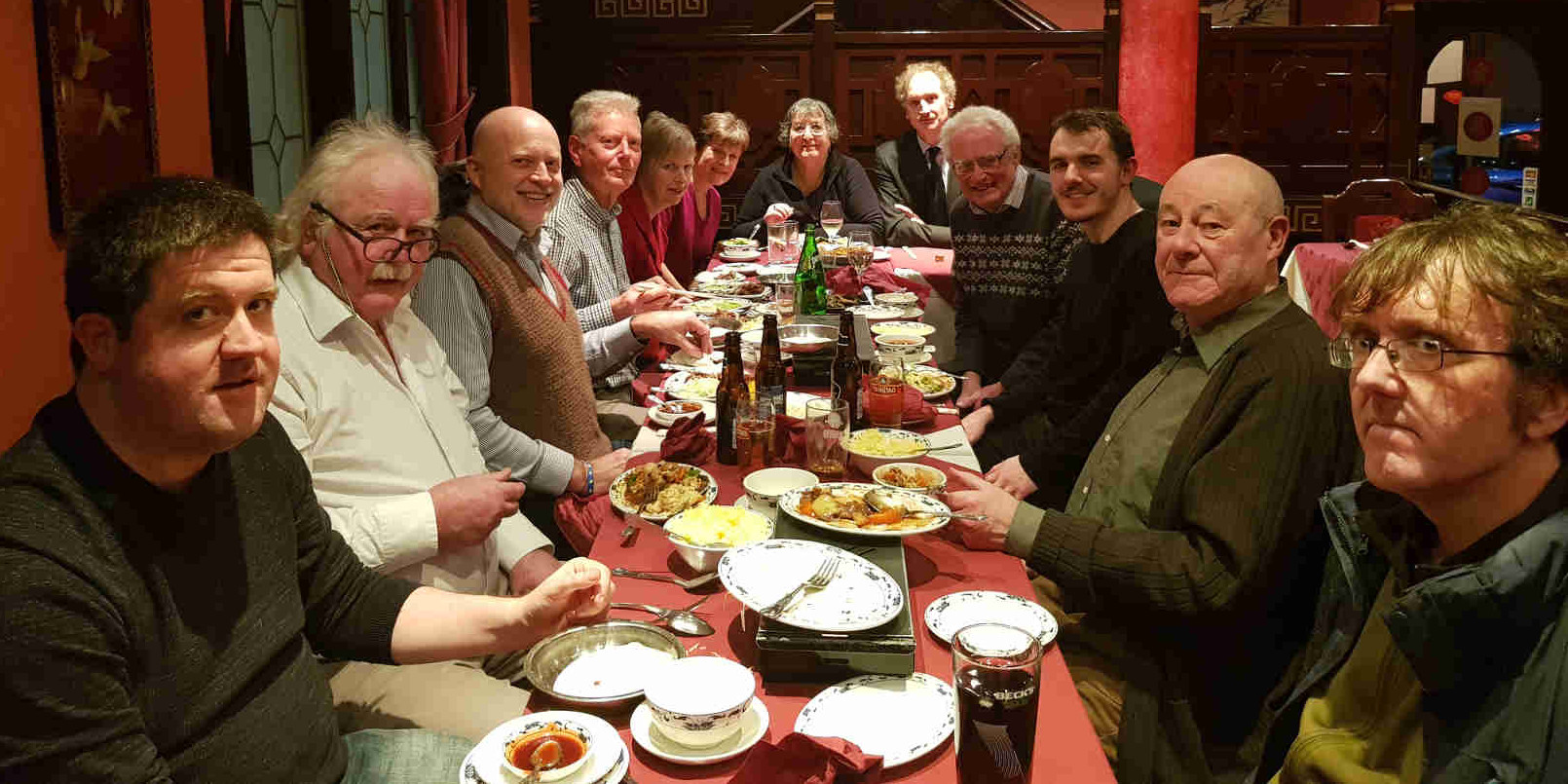 A fine turnout for the annual dinner at The Golden Dragon.
December Catchup
18th December 2019
With a delay to the match vs University 'A', it has been a quiet few weeks on the league front, but club matches have continued apace. Now and then we'll include interesting matches, of which one quickplay game is shown below. I (Iain) ended up losing this one unfortunately, but it was an excellent and instructive game.
League Roundup
30th November 2019
The Dragons have made a rollercoaster start to the season consisting of a disappointing 0.5-3.5 loss to Morecambe 'B', followed by an excellent bounceback to draw Morecambe 'A' 2-2 thanks to wins by Danny and Lawrence.
Most recently the Dragons defeated Bare Village with a score of 4-0, where Barry, Danny, Lawrence & Jonathan all registered wins to give us our first victory of the season.
Next up is a tough fixture versus University 'A' in one of the the hardest matches of the year.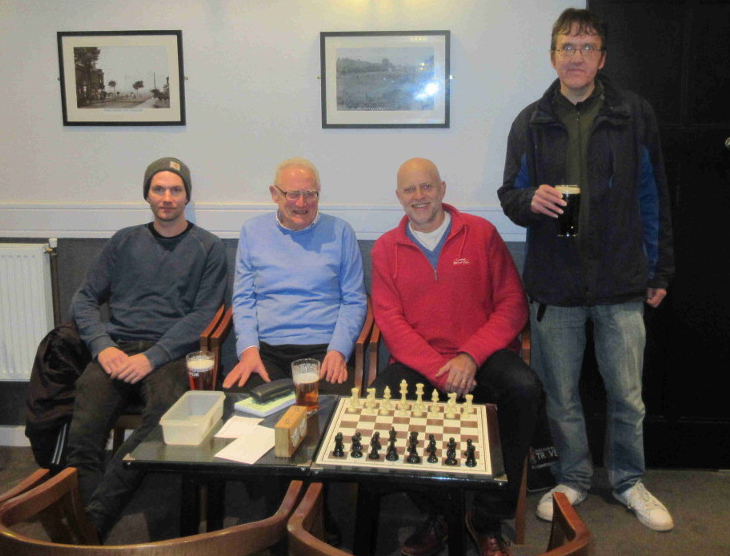 From left to right; Danny, Lawrence, Barry & Jonathan.